EVBettor Perfomance
Week
Wins
Loss
Push
ATS
Performance
1
6
3
0
67%
2.7%
2
8
7
0
53%
(2.2%)
3
12
4
0
75%
6.1%
4
7
11
0
39%
(3.6%)
2017 Season
33
25
0
57%
3.0%
2016 Season
164
121
4
58%
41.3%
Market Notes
Week 4 saw favorites go 7-9 ATS while Overs went 8-7-1 against closing lines. With a quarter of the season done, you are now able to generate strength-of-schedule based stats (you need enough games played between teams to gauge relative strength).  Below is the relative point spread market rankings of the NFL teams through 5 weeks.  This is a great way to view how the market views a team.  Despite being .500, the Pats still sit well atop the list, as they have been favored big-time in every game.  While the Jets, Niners, Browns, and Colts fill up the bottom of the barrel.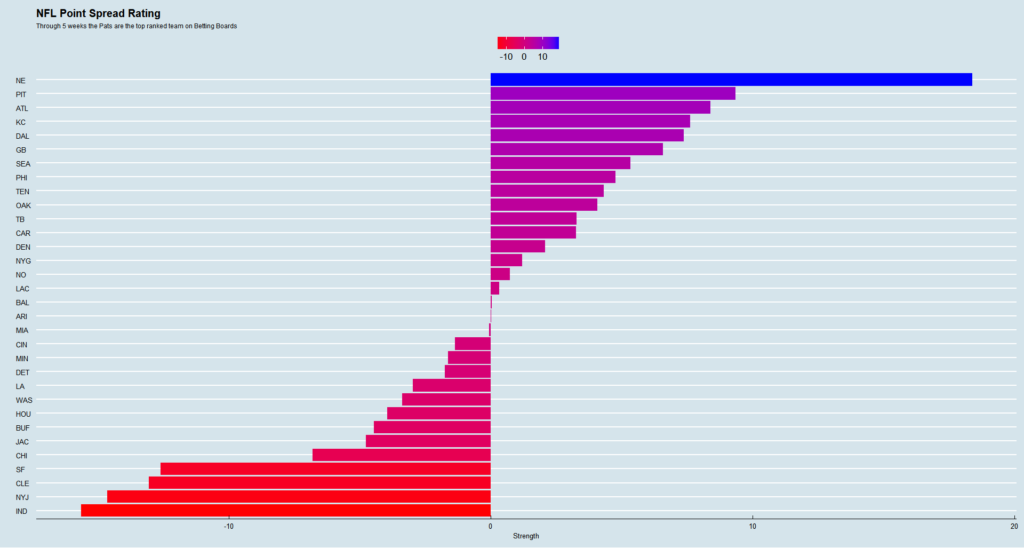 Week 5 Plays
Totals
Big
Had plenty of questions e-mailed to me, sorry I haven't had to answer fully.  Will do my best to answer in coming weeks.
If more plays are posted, they will be through e-mail.  Sign up Below and fill out two questions.