Week 1 Record:  6-3 or +2.7% (5-3 Full Game Sides and 1-0 2H Play).
2016 Record: 66–26 ATS (72%) on 1-unit sides and 164–121–4 (57.5%) on all plays, different model used..but markets evolve.
Team Notes:
The Jags defensive unit was very real last season and the numbers like them this week.
The perception on the Browns continues to be too low as they face a Baltimore team whose dominant win against Cincy already looks less impressive
Markets Notes:
Week 1 is always a great week as it's the beginning of the NFL season.  Lots of biases are held over from the previous season, as that is all there is to go off of, but teams regress from extremes more often than not.
Books made out as bandits as Supercontest picks (now because of the number of entrants is a quasi-proxy for the gambling public) was 1-8-1 for all picks above 65%.  Unders also went 4-10-1 in Week 1, which added to the bookmakers' coffers.  While week 1 has historically been an UNDER heavy week (52.4% to UNDER through 440+ games), week 2 has been even more UNDER heavy (53.2%).  Small shadings by the bookmakers, but they make a difference over the long haul.
If you didn't catch a chance to watch Tony Romo call the game, it is a must listen.  I don't just say that as a Cowboys fan.  He has the ability to see tendencies and plays that only come with 14 years of pro-experience.  Wouldn't surprise anyone to see him get involved in the NFL team level in some function.
Chart of the Week: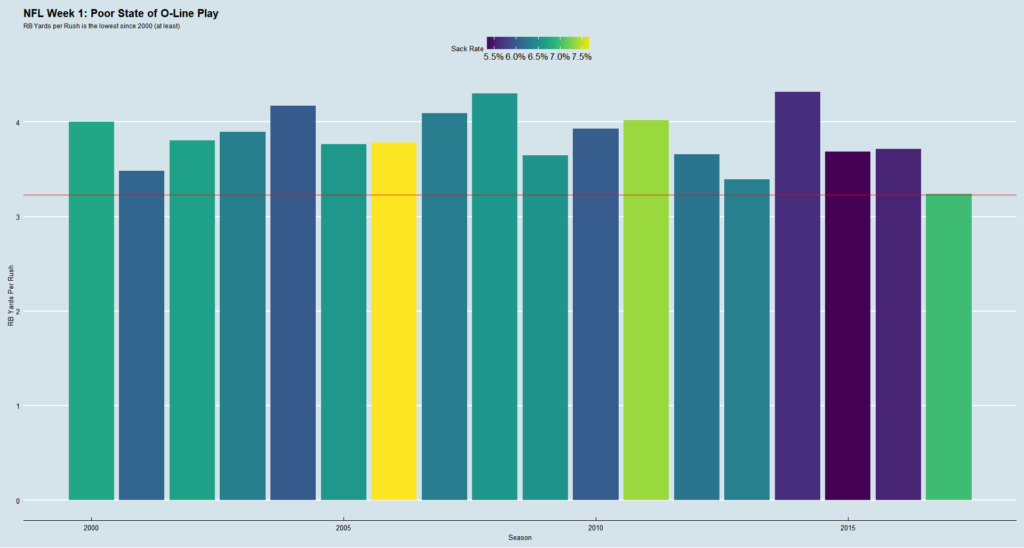 Did it seem like the offensive lines sucked in week 1?  Well, your eyes were not deceiving you as makeshift O-lines gave up sacks 7.0% rate, the highest number going back at 11 years (2006), while the yards per rush for running backs was a paltry 3.2 YPR, the lowest in at least 17 years…Too early to tell if this is signal or noise but something to keep an eye on as the season progresses.
Stay in Touch
How can I make this site better for you?  Email me at george [@] evbettor.com.  Want to be notified of plays or changes to the site?  Sign up for my newsletter below the plays.
 Week 2 Plays:
Not investment advice and these are the lines I got down on.  (Units) in parentheses.  Stay tuned as I may add more plays or 2H plays on Twitter.
Sides
GB +3 (1)
JAX +1.5 (1)
LAR -2.5 (1)
CLE +9 (1)
CAR -7 (1)
DEN +2.5 (1)
IND +7 (1)
PIT -5.5 (0.5)
PHI +5.5 (0.5)
Totals
NE/NO UNDER 57 (.5)
DET/NYG UNDER 42 (.3)
BUF/CAR UNDER 43 (.3)
TEN/JAX OVER 41.5 (.3)
CLE/BAL OVER 38 (.3)
WAS/LAR OVER 45 (.3)
Sign up to be notified of free analysis and plays below: